News & Notes

Sounds stir memories. Memories evoke emotions. Emotions conjure images. Images create reflections. And so it goes. Thoughts beget thoughts, discursive ruminations give way to associative insights, stories lead to stories in Laurie Anderson's beguiling, captivating meditation on life, loss, and dogs. Among other matters.
"I started with some dog stories and then when it became a short story collection I thought, what do these have in common? What is the engine here? The engine in a way is how energy shifts," said Anderson in a recent interview with Paper. "In the middle of this movie is a book — the Tibetan Book of the Dead. That's sort of the model. How energy is expressed in that book in a hallucinatory way is what I hope the rest of the film is about as well. In the center is a very condensed version of how the senses dissolve and the consciousness drops away and what's left of you and your life. And it's also about the fallibility of words. Even though it's a story about words and how they can fail us."
Wholly appropriate then that words fail to adequately describe this film.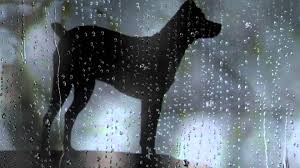 Anderson – painter, musician, writer, installation and performance artist, explorer, tinkerer – has spent five decades as an artistic experimenter, bridging different media and technology, probing, entertaining and provoking. Coming out of the New York art scene of the late 60s, Anderson worked in a variety of formats, everything from sculpture to underground comix. Her first performance piece – a symphony composed of car horns – debuted in 1969.
She began her career as a recording artist in the 70s, first creating pieces to be used in conjunction with installation works and then exploring sonic terrain on its own. Over the years, her recorded work has become her most common and well-known means of expression. In 1981, she had an unexpected commercial hit with the single O Superman, from her album Big Science. Since then she has put out numerous albums and collaborated with an impressive range of artists, including John Cage, Brian Eno, William Burroughs, Philip Glass, Andy Kaufman, Ryuichi Sakamoto, the Kronos Quartet, and of course Lou Reed. She has also invented several instruments, including a Talking Stick (a 6-foot-long baton-like MIDI controller) and a Tape-box Violin (which uses recorded magnetic tape in place of the traditional horsehair in the bow and a magnetic tape head in the bridge).
Anderson has worked with film throughout the years, but it has rarely been a primary focus. Often creating film and video work to augment her performances, she has also composed scores for several films (including Jonathan Demme's Something Wild and Spalding Gray's Swimming to Cambodia and Monster in a Box) as well as appearing in several documentaries (such as BBC's The Human Face and the amusing Heavy Petting) and other films (even a voice cameo in The Rugrats Movie). She was also member of the jury at the 41st Berlin International Film Festival in 1991. Heart of a Dog marks the first feature-length piece of cinema Anderson has created since her film Home of the Brave from 1986, comprised mostly of live performances from her Mister Heartbreak tour.
Anderson also has the rare credit of being NASA's first artist-in-residence, and local audiences may remember her 2005 appearance at the Flynn Center for the Performing Arts of the show which came out of that experience, The End of the Moon. Stories from that performance (as well as some from other Flynn appearances) appear in Heart of a Dog, and it's fascinating to see the tales given new life and perspective through a cinematic lens.
The film was originally inspired by the loss of Anderson's beloved rat terrier Lolabelle. In reflecting on her experiences and relationship with her longtime canine companion, Anderson found that the animal provided an intriguing entrance point to a range of issues she wanted to explore. As she explained in a wonderful Film Comment interview, "I chose dogs, not just because I love them, but also because they have the skill of empathy, which I wanted to make a big part of this film. They like to study people. We're their food supply, so they have a good reason to study us. But I think they also admire us. I think one of the biggest reasons is because we invented cars. I think they really can relate to that. Sticking their head out of the window, the wind blowing through the ears. They love speed—it's awesome, man. And so they stick with us. And they're like "Okay." So I like that attitude."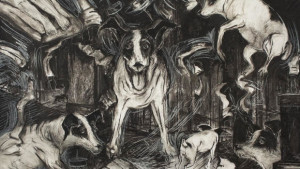 The issues explored in Heart of a Dog are a diverse mix of the heady and the heartfelt, ranging from identity and autobiography to sensory perception and government surveillance. Pervading it all, though, is the specter of mortality. Our understanding of the inevitable. Lolabelle's passing is not the only death to haunt the film. Anderson also grapples with the death of her mother, trying to make peace – or at least sense – of the strained relationship they had in life. More obliquely, the ghost of Anderson's longtime partner, the iconic musician Lou Reed, presides over the film.
"Death is so often about regret, or guilt. Why didn't I call her? Why didn't I say that? It's more about you than the person who died. But finally I saw it, the connection between love and death, and that the purpose of death is the release of love."
Despite the heaviness of the subjects at hand, Heart of a Dog never becomes mired in the morose. Finding comfort – even levity – in the Buddhist principles that have guided her throughout life, as well as her own off-kilter humor and sensibility, Anderson manages to allow for plenty of lighthearted moments. Under her guidance, philosophy makes an easy bedfellow with playfulness, and humor brushes shoulders with morbidity while maintaining a stable balance. In her odd, dreamlike film, alternating between the lyrical and the candidly lucid, between documentary, essay, and flights of fancy, between different film stocks and formats, between the past, the present, and the imagined, Anderson concocts an inviting mix of meditation and wonder, as singular and evocative as you'd expect from such a unique artist.
-Seth Jarvis, 2/21/2016