News & Notes

"If I wanted to get into heaven on the basis of one movie, that's the one I would offer up. I think it's because it is, to me, the least flawed . . . I succeeded more completely, in my view, with that than with anything else."
—ORSON WELLES
Chimes At Midnight is Shakespeare. It is also Orson Welles and Jeanne Moreau. Chimes At Midnight, Welles' third and final Shakespeare adaptation, is considered by many not only his best adaptation but one of his best films. The film stars Orson Welles as Falstaff, Jeanne Moreau as Doll Tearsheet, John Gielgud as Henry IV, Keith Baxter as Prince Hal, and Margaret Rutherford as Mistress Quickly. The scripts is not a direct adaptation of any one of Shakespeare's plays but contains text from five different plays; primarily Henry IV, Part 1 and Henry IV, Part 2, and also Richard II, Henry V, and some dialogue from The Merry Wives of Windsor.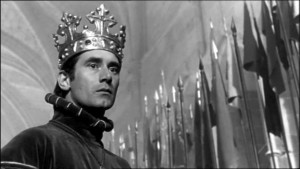 Chimes At Midnight features Ralph Richardson's narration taken from the works of chronicler Raphael Holinshed and cinematography from Edmond Richardo who also worked with Orson Welles on The Trial and with Luis Bunuel his late films such as The Phantom Of Liberty and The Discreet Charm of the Bourgeoise. The film is a superbly acted tale of friendship.
Pauline Kael on Chimes At Midnight: "He has directed a sequence, the Battle of Shrewsbury, which is unlike anything he has ever done, indeed unlike any battle ever done on the screen before. It ranks with the best of Griffith, John Ford, Eisenstein, Kurosawa—that is, with the best ever done." The film is reported to have influenced Mel Gibson's Braveheart.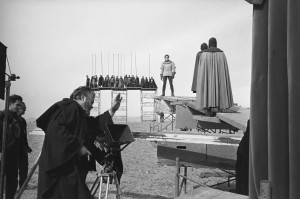 A new restoration by Janus Films and The Criterion Collection has been a 20 years of effort. According to Criterion president, Peter Becker: "There is no film we have waited longer for or worked harder to free up, and none we are prouder to present." A release date for DVD and Blu-ray has yet to be determined, pending further work on the film. "While this restored release fulfills what we feel is a longstanding debt to U.S. audiences – making one of the treasures of cinema history broadly available in a high-quality presentation for the first time in many decades – our work on Chimes at Midnight is not done," Becker said. "We will continue to collaborate with Filmoteca, the Piedra family and archivists and restorers around the world to bring about the full preservation and 4K restoration the film deserves, but that process may take years to complete. At this moment, at the culmination of Welles' centenary, we feel that what the film needs most is an audience, and thanks to this restoration we feel confident that the film will reach that audience looking the best it ever has."
SPAIN • 1966 • 116 MINUTES • BLACK & WHITE • 1.66:1
The Burlington Film Society is pleased to present the Burlington premiere of this 1966 Cannes Film Festival award winning film.
– Mark Hurne, 4/25/2016